Nifty began the week on a negative note but rebounded on Wednesday following Tuesday's holiday, ultimately closing the week with a 1% increase. The market is currently attempting a rally. Confirmation of the uptrend will be sought through a strong follow-through day. Midcaps and Smallcaps are showing strong market performance, trading at all-time highs, signaling promising opportunities within the market. On the sectoral front, all sectors closed positive except the financial sectors, namely Bank Nifty and Fin Nifty. The top gaining sectors were Nifty IT, followed by Nifty Realty and Nifty Auto. The immediate support level stands at 19,300, while 20,200 will act as a strong resistance on the opposite side.
Nifty50 Weekly Chart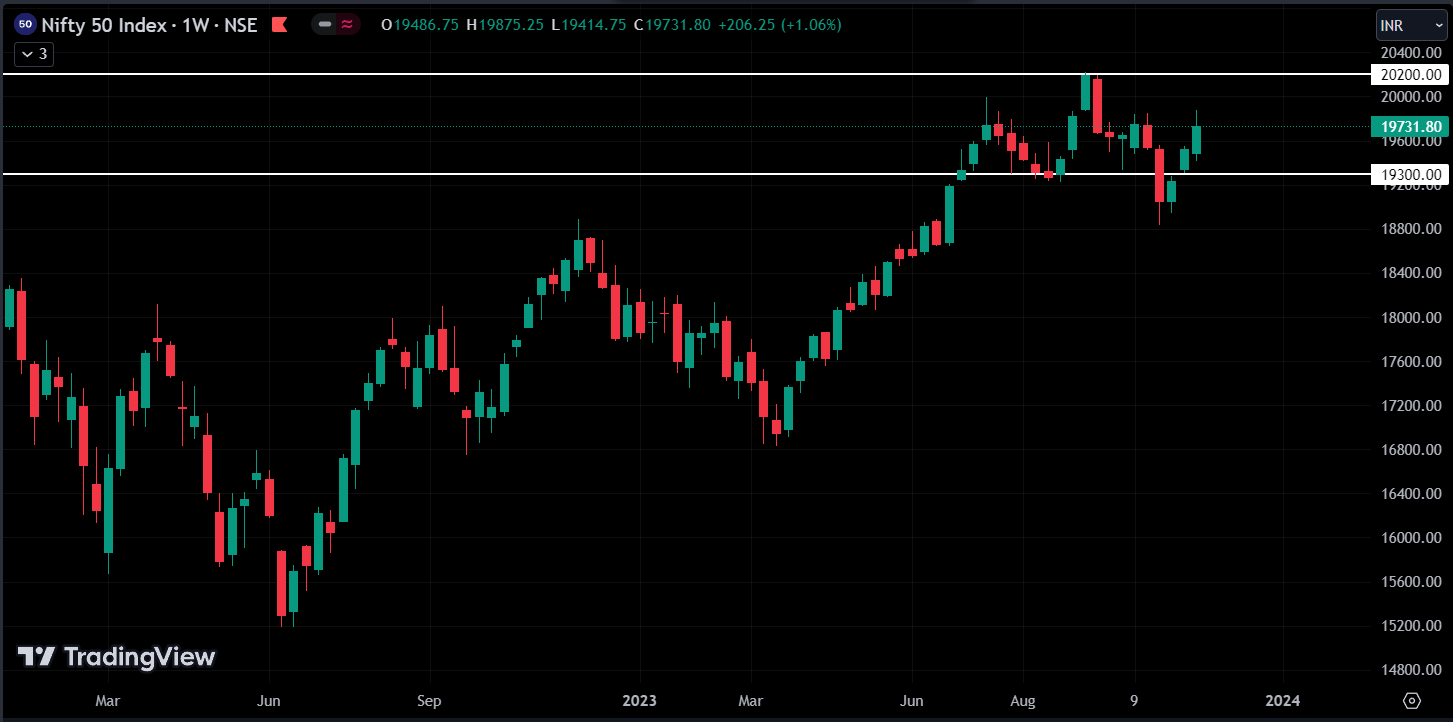 BANK NIFTY
Bank Nifty closed the week 0.94% lower due to news from the RBI, which announced an increase in risk weight on personal loans and consumer credit from 100% to 125% for both banks and NBFCs. This news has fostered a negative sentiment in the lending sector. For the upcoming week, it will be crucial to monitor the performance of financial stocks. Banks with lower dependence on personal loans will be particularly important to watch.
Bank Nifty is expected to find support at 43,100 points, while it might encounter resistance at 44,800 points.
Bank Nifty Weekly Chart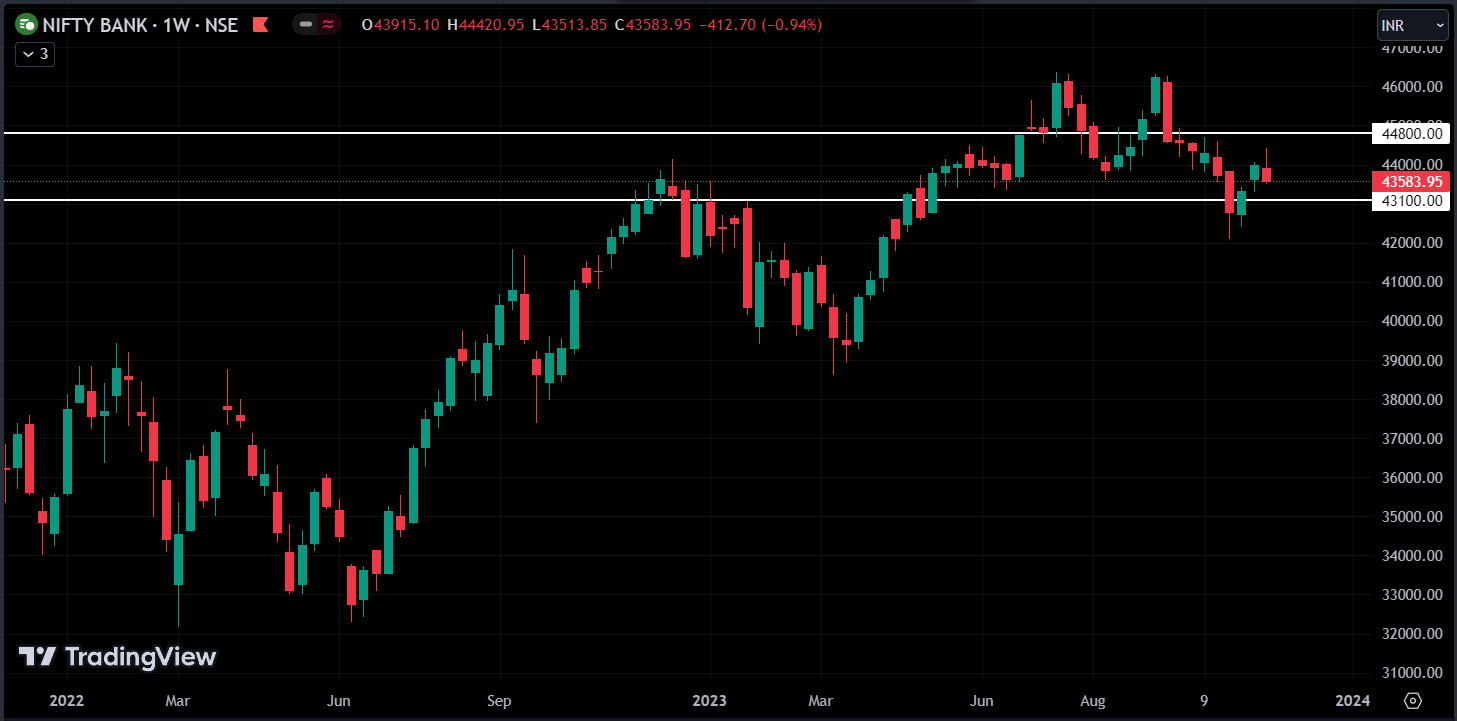 Top Performing Sector of the Week
Nifty IT 5.07% Up
– Coforge 10.49% Up
– Tech Mahindra 5.31% Up
– Mphasis 5.28% Up
Worst Performing Sector of the Week
Nifty Bank 0.94% Down
– Axis Bank 3.46% Down
– SBIN 3.14% Down
– ICICI Bank 2.18% Down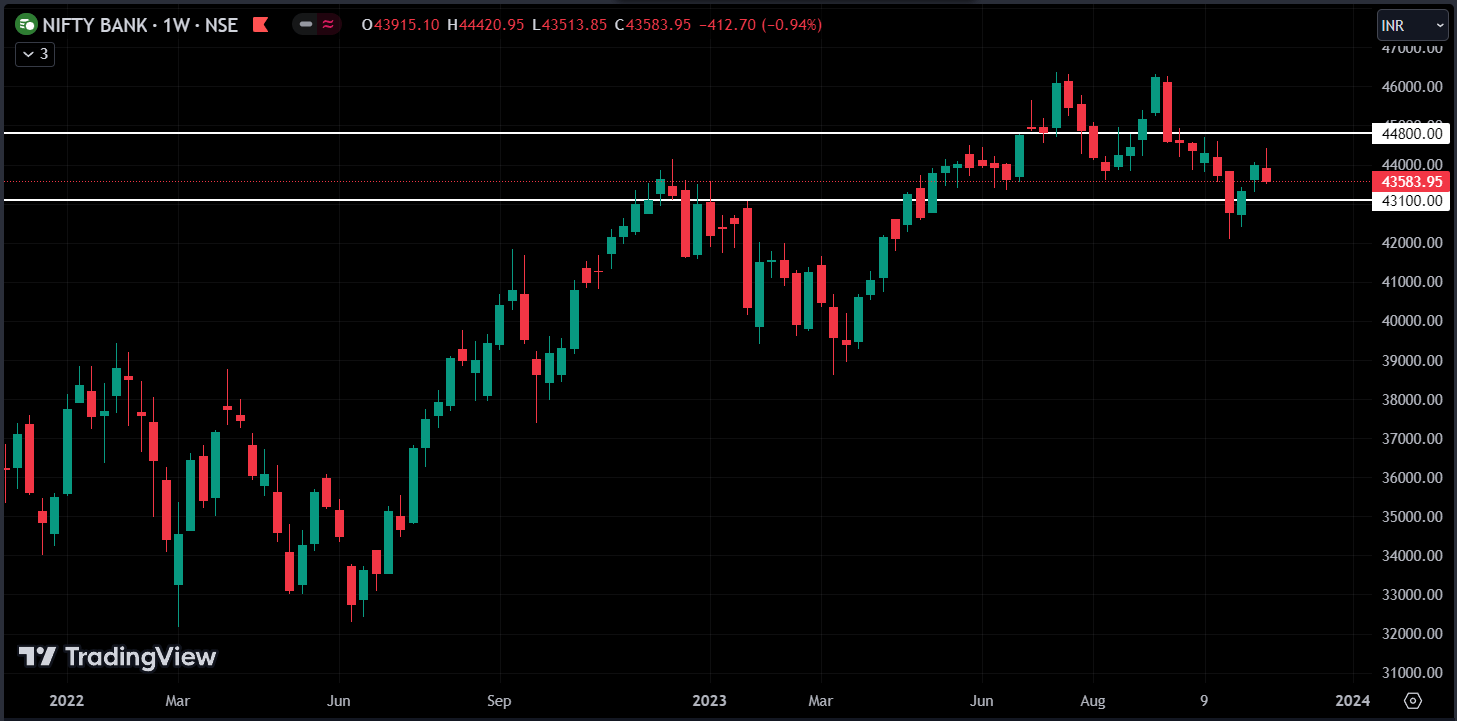 Key News & Results
Gmr Airports Infrastructure's airport's total passenger traffic grew 19% YoY and 5% MoM to 98.4 lakh in October.
Ags Transact Technologies wins an order worth Rs 1,100 crore over seven years from SBI to deploy 2,500+ ATMs.
Lupin gets approval from the U.S. FDA for Ganirelix Acetate injection.
About the Author
Sagar Wadhwa
Sagar Wadhwa is a Senior Equity Research Analyst who is a key member of the research team at Univest. He has extensive knowledge and expertise in the stock market, financial analysis, and investing and uses this expertise to provide valuable insights to the research team.
Note – This channel is for educational and training purposes only & any stock mentioned here should not be taken as a tip/recommendation/advice