NIFTY50
Nifty began the week positively, consolidated throughout the entire week, and concluded with a 1.01% increase. The market is currently attempting a rally, and confirmation of the uptrend will be sought through a strong follow-through day. Let's evaluate the historical performance of capital markets before elections. Below is a list of stock market performance from November to May.
Nov 1998 – May 1999: +36%
Nov 2003 – May 2004: +9%
Nov 2008 – May 2009: +31%
Nov 2013 – May 2014: +19%
Nov 2018 – May 2019: +11%
Nov 2023 – May 2024: ??%
Will the market repeat its history? Let's find out.
On the sectoral front, Nifty Media, PSU Bank, and IT were the decliners. On the flip side, Nifty Pharma and Realty led the gains.
The immediate support level stands at 18,800, and on the opposite side, 19,850 will act as strong resistance.
Nifty50 Weekly Chart
BANK NIFTY
Bank Nifty ended the week 1.16% up. It has reclaimed its 200 EMA and traded above that throughout the entire week. PSU Banks will be important to watch out for next week.
Private banks like HDFC Bank and Kotak Mahindra Bank are attempting to form a base near 1470 and 1715, respectively. Tracking their performance in the upcoming weeks will be crucial.
Bank Nifty is likely to find support at 43,100 points, and it might face resistance at 44,800 points.
Bank Nifty Weekly Chart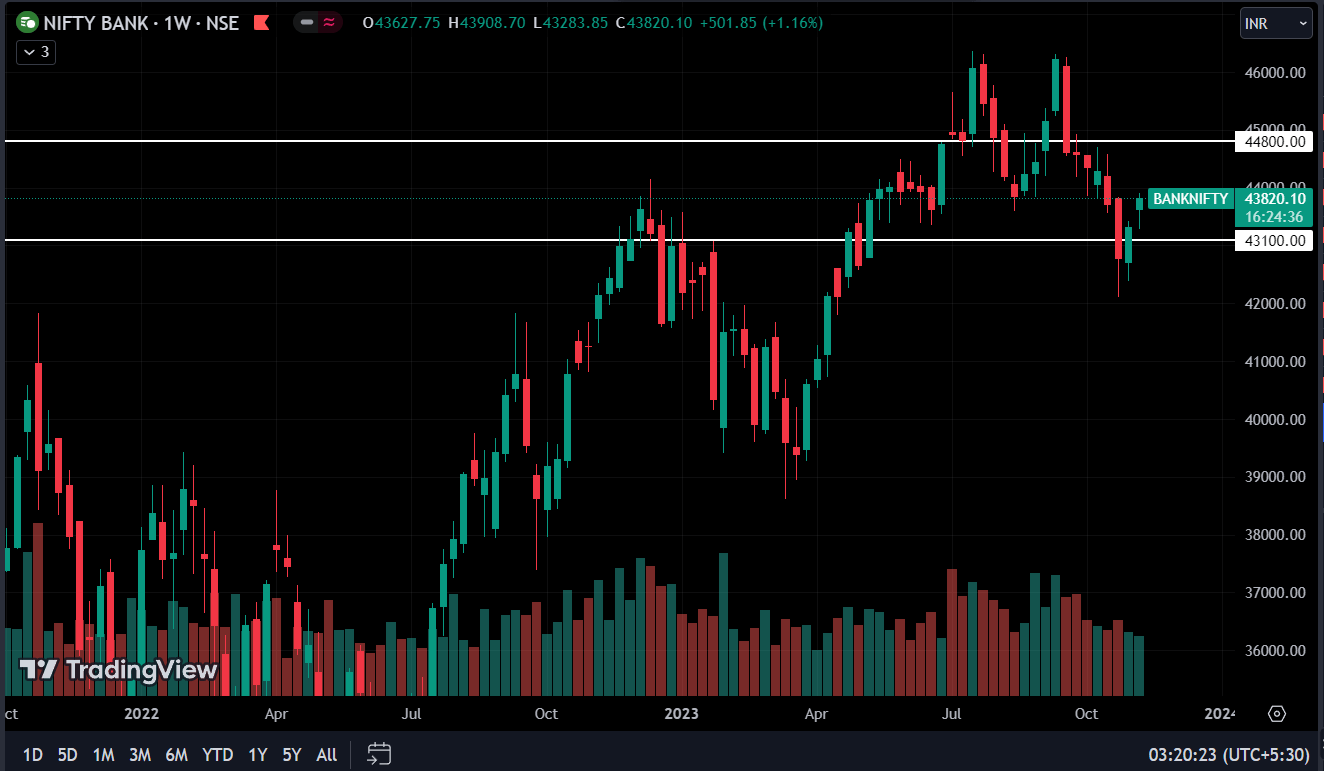 Top Performing Sector of the Week
–   Aurobindo Pharma 14.68% Up
–   Alkem Laboratories 13.06% Up
–   Ipca Laboratories 8.35% Up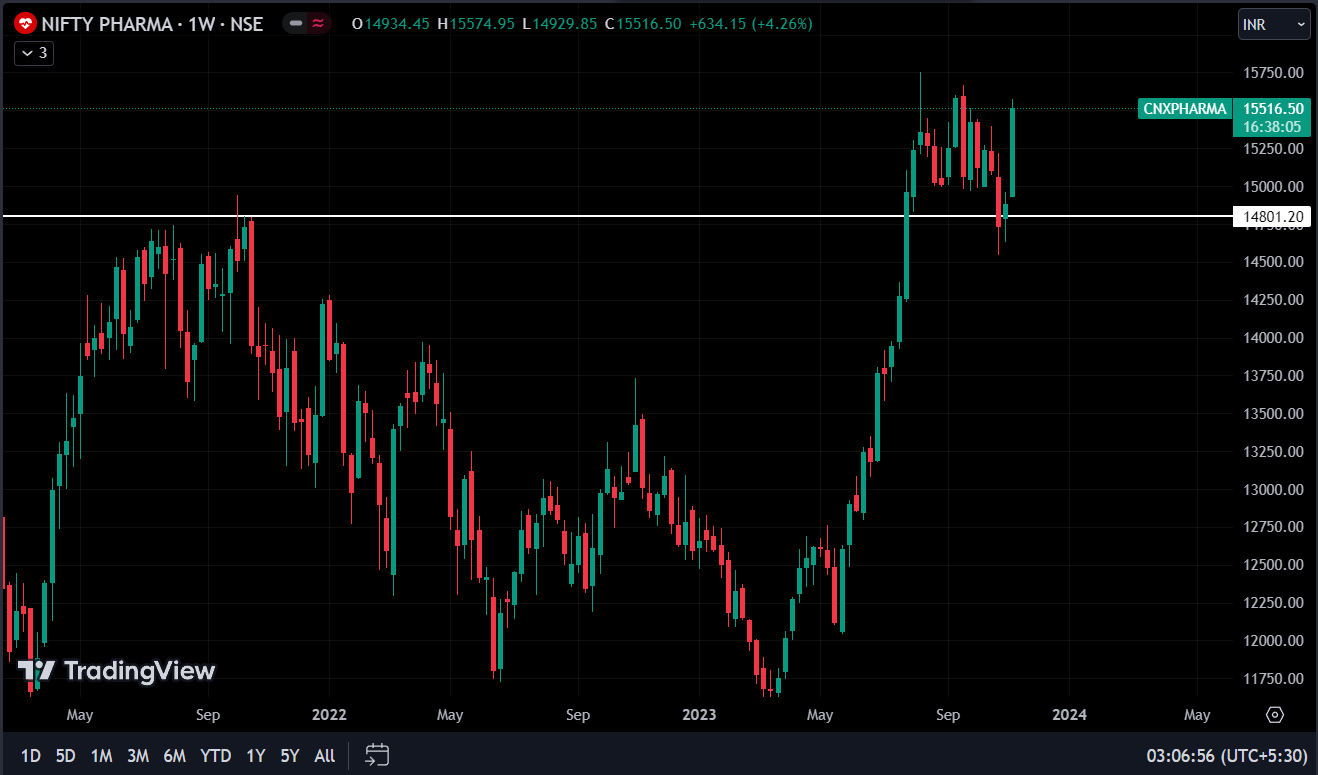 Worst Performing Sector of the Week
– Zee Entertainment 9.57% Down
– D.B Corp 2.21% Down
– Sun TV 0.90% Down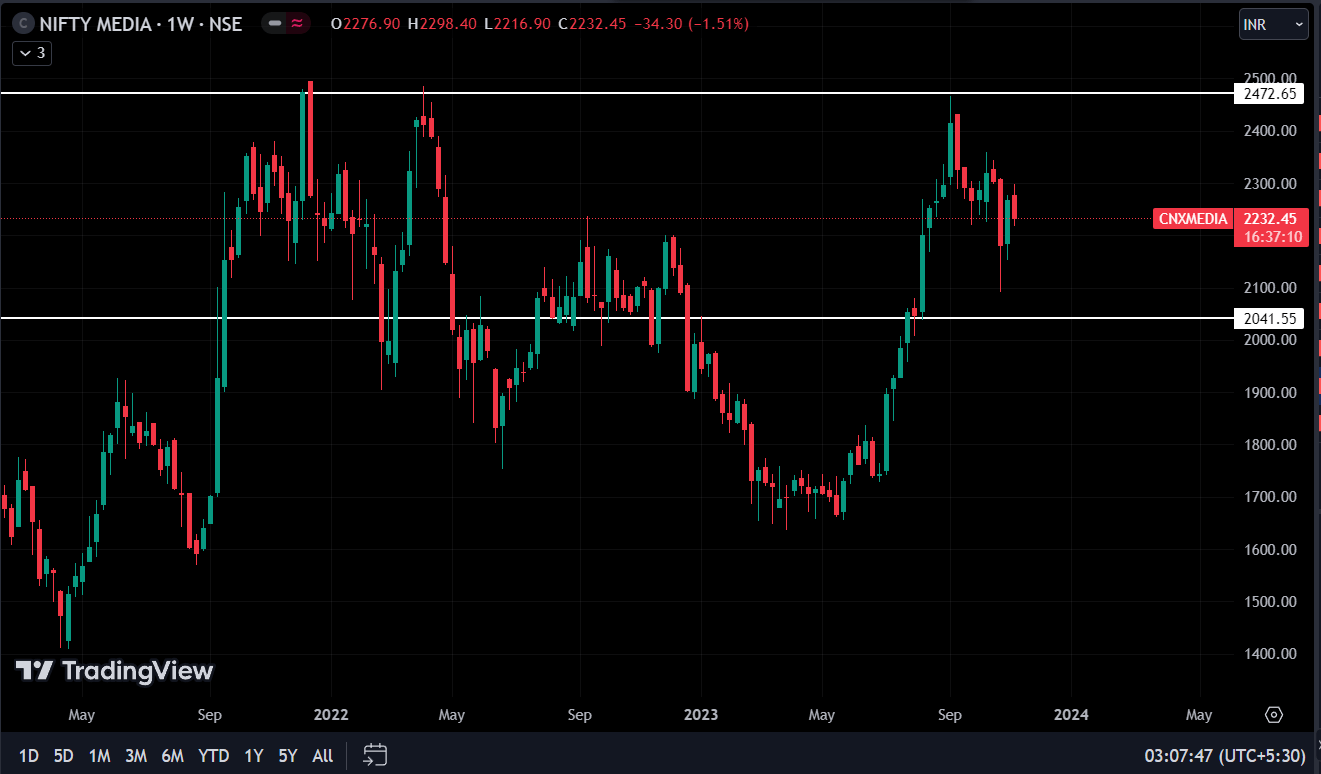 Key News & Results
Housing And Urban Development Corporation's Q2 FY24 revenue grew 7.3% y/y to Rs 1,864.8 crore. Profit increased 13.9% y/y to Rs 451.6 crore.

India's direct tax collections, net of refunds, grew 21.8% y/y to Rs 10.6T. This tax revenue was 58.2% of the total budget estimates for FY24.

KPI Green Energy gets a 1.6MW solar power order from Adarsh Textile.

Shriram Properties's Q2 FY24 revenue was down 20.3% y/y to Rs 206.1 crore. Profit was up 2% y/y to Rs 20 crore. EBITDA margin increased to 19.4% from 13.1% a year ago.

Hindustan Aeronautics's Q2 FY24 revenue grew 9.5% y/y to Rs 5,635 crore. Profit was up 1.3% y/y to Rs 1,236 crore. EBITDA margin declined to 27.1% from 31.5%.

Hindalco Industries's Q2 FY24 revenue grew 12.5% y/y to Rs 20,676 crore. Profit increased 54.6% y/y to Rs 847 crore. EBITDA margin improved 100bps y/y to 8.5%.

Mahindra & Mahindra's Q2 FY24 revenue grew 15.7% y/y to Rs 24,310 crore. Profit surged 66.9% y/y to Rs 3,451.8 crore
About the Author
Sagar Wadhwa
Sagar Wadhwa is a Senior Equity Research Analyst who is a key member of the research team at Univest. He has extensive knowledge and expertise in the stock market, financial analysis, and investing and uses this expertise to provide valuable insights to the research team.
Note – This channel is for educational and training purposes only & any stock mentioned here should not be taken as a tip/recommendation/advice