Sales of automobiles witnessed a surge in October 2023 due to the festive season of Navratri, as well as increasing demand in both rural and urban areas. The results of many automotive companies have been encouraging, with many of them reporting their highest-ever quarterly sales in Q2FY24. The October sales data suggests that the uptrend in demand is likely to continue until the end of this calendar year. The market also gained strength due to improved availability of models, especially those in high demand from the previous year, and the introduction of more attractive financial schemes.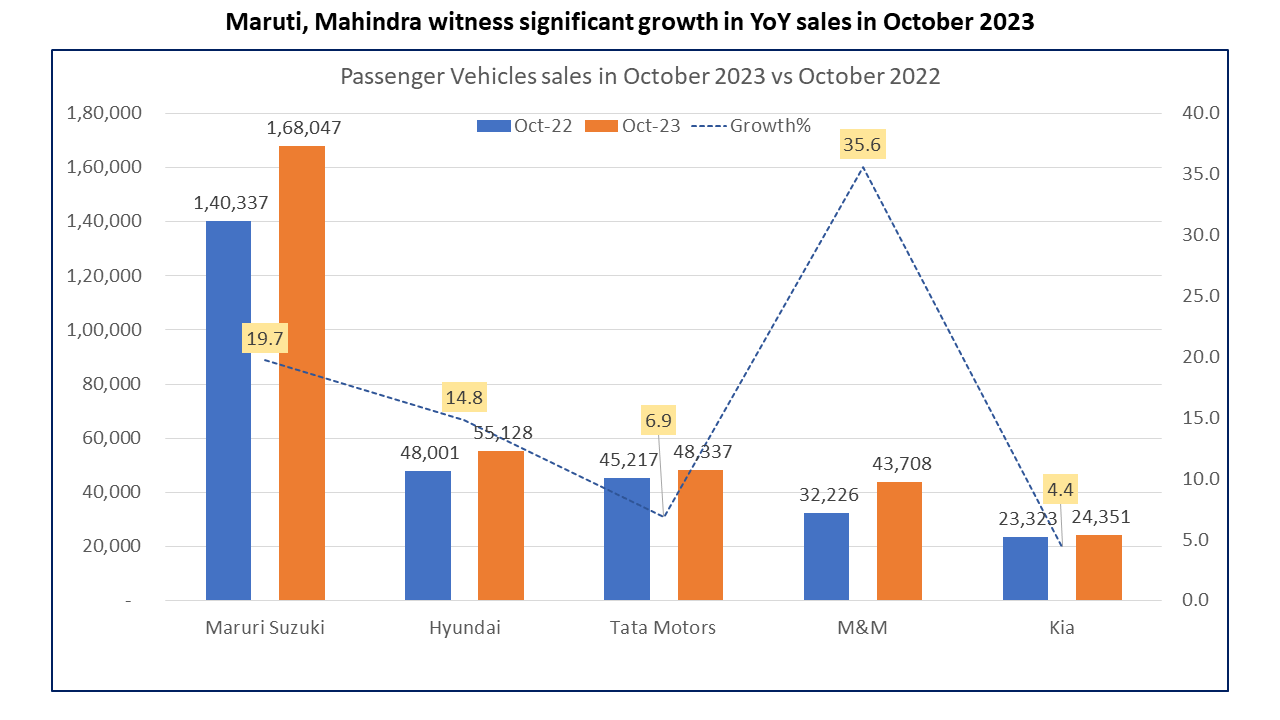 In the passenger vehicles segment, Mahindra & Mahindra delivered a remarkable performance with a 35.6% year-over-year (YoY) sales growth. In the SUV segment, it achieved the highest sales for the fourth consecutive month, with 43,708 vehicles sold in the domestic market during October, reflecting a 36% growth.
Maruti Suzuki India Ltd. reported its highest-ever monthly sales, with total dispatches to dealerships reaching 1.99 lakh units, marking a 19% increase. Within the SUV category, models such as Brezza, Ertiga, Fronx, Grand Vitara, Invicto, Jimny, S-Cross, and XL6 collectively accounted for 59,147 units sold in October 2023, representing a 25% share of SUV sales for Maruti Suzuki.
Tata Motors released its monthly sales report, registering 48,337 unit sales in October 2023, a nearly 7% YoY growth compared to the previous year's 45,217 units. Additionally, the carmaker's electric vehicle (EV) sales increased by 28% last month, reaching 5,465 units, up from 4,277 units in October 2022. In terms of exports, Tata Motors shipped 300 units last month, up from 206 units in October 2022, indicating a 46% growth in exports. Tata Motors had introduced updates to Nexon, Harrier, and Safari in the past two months.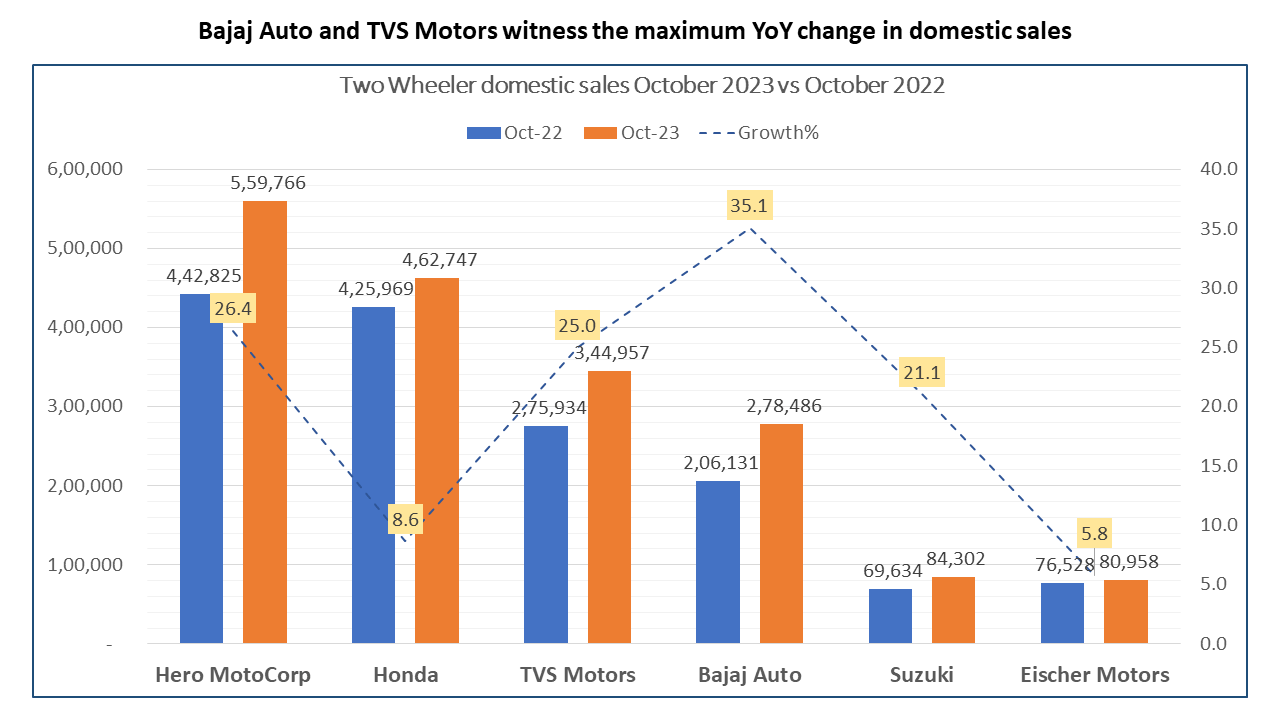 Sales of two-wheelers continued to perform well in October 2023. Bajaj Auto, TVS Motors, and Hero Motors achieved over 25% YoY growth, with Bajaj Auto leading at 35.1% YoY sales growth.
TVS Motors' two-wheeler sales increased by 22% to 3.44 lakh units, surpassing analysts' consensus estimates of 17% growth. The company sold 15,729 units of the iQube electric scooter, compared to 8,103 units sold last year. Domestic two-wheeler sales rose by 25% to 3.45 lakh units. Two-wheeler exports also grew, with a 10% increase to 75,653 units.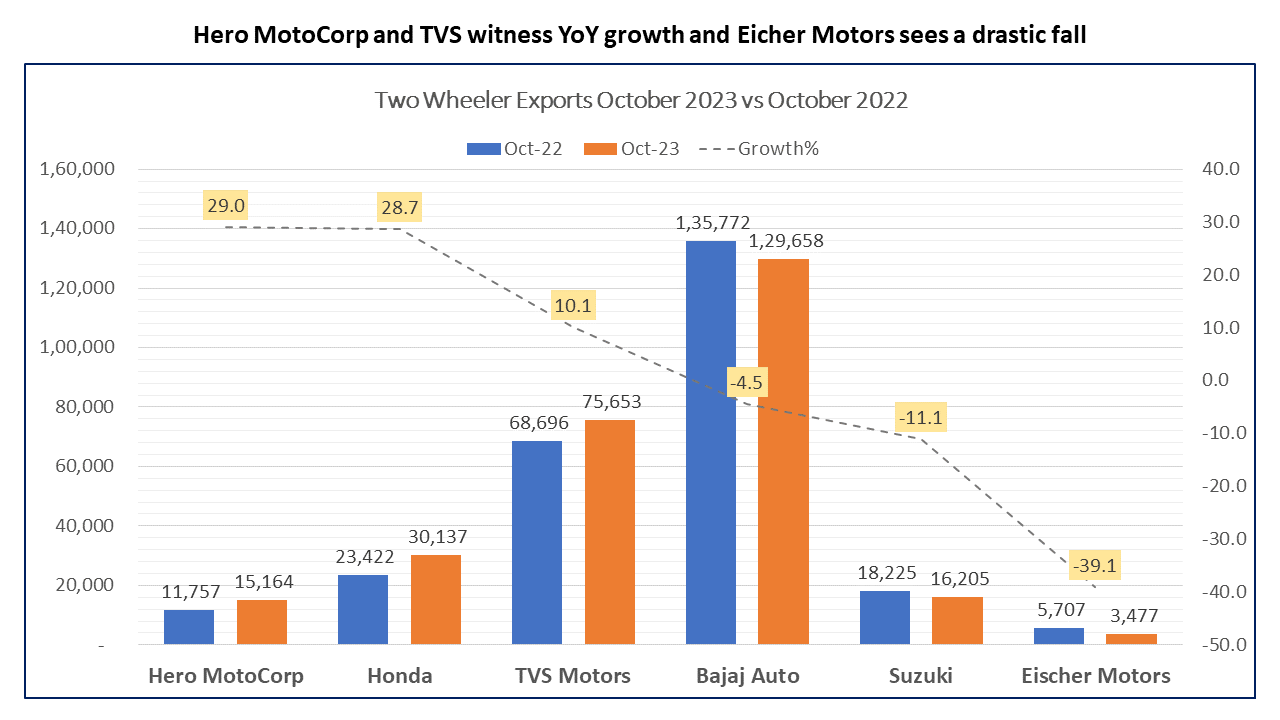 Eicher Motors' total motorcycle sales rose by 3% to 84,435 units, despite a decline in overseas shipments in October 2023. Sales of models with engine capacities up to 350cc increased by 2% to 76,075 units, while sales of models with engine capacities exceeding 350cc grew by 13% to 8,360 units. Exports saw a 39% decrease to 3,477 units.
Hero MotoCorp Ltd.'s total dispatches to dealerships increased by 26.5% to 5.75 lakh units in October. Motorcycle sales rose by 26% to 5.29 lakh units, and scooter sales surged by 30% to 45,589 units. Domestic sales also grew by 26% to 5.60 lakh units, while exports expanded by 29% to 15,164 units.
The two-wheeler EV segment is gaining momentum, with major players experiencing growth each month. Two and three-wheelers continue to lead the transition to electric mobility, even as demand for electric passenger vehicles increases. October marked the third highest-selling month for EV retail sales, following May and March 2023. Total EV sales are expected to reach 1.5 million units this calendar year.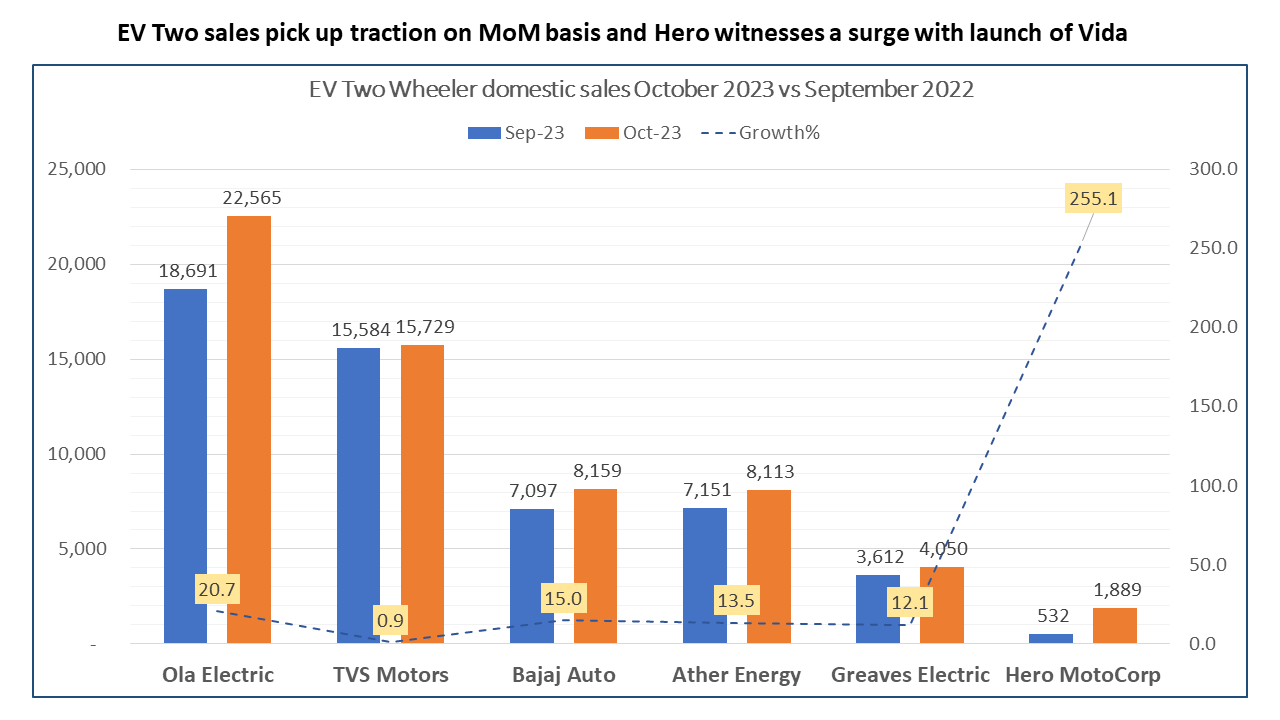 Electric two-wheeler industry sales in October 2023 reached over 71,000 units, marking the best month since the reduction of FAME subsidies in June. Cumulative sales for the first 10 months of CY2023, totaling 691,536 units, are 41% higher than during the same period last year.
Leading the EV market is Ola Electric, which experienced a 20.7% month-on-month sales increase. TVS Motors also contributed significantly to EV sales with its iQube model. Hero MotoCorp, having recently entered this space with its Vida model, witnessed a sharp month-on-month sales surge, more than tripling its previous month's sales.
The auto industry has now overcome some of the challenges it faced last year, including semiconductor chip shortages, weak demand, and slowing exports. The October 2023 data instills confidence that the remaining two months of the year may continue to witness high demand for two-wheelers. The upcoming festive season with Diwali in mid-November and inventory clearance discounts in December could serve as triggers for this growth. It's highly probable that many auto companies will conclude this calendar year on a high note.
ABOUT THE AUTHOR
Ketan Sonalkar (SEBI Rgn No INA000011255 )
Ketan Sonalkar is a certified SEBI registered investment advisor and head of research at Univest. He is one of the finest financial trainers, with a track record of having trained more than 2000 people in offline and online models. He serves as a consultant advisor to leading fintech and financial data firms. He has over 15 years of working experience in the finance field. He runs Advisory Services for Direct Equities and Personal Finance Transformation.
Note – This channel is for educational and training purpose only & any stock mentioned here should not be taken as a tip/recommendation/advice
You may also like: Post market Update