NIFTY50
Nifty started the week on a positive note and ended the week up 0.96%. Nifty ended the week near its high, making it appear strong and positive.
Nifty has sustained Friday's low for three days, and, therefore, the general market trend has shifted to a Rally Attempt. It will be important to see if the market provides a follow-through strong day, where Nifty rises by 1.25% in a day, and the volume should be higher than the volume of the last trading session to shift the general market trend to a Confirmed Uptrend.
Except for Nifty Auto, all sectoral indices closed higher. Nifty Realty was the top gainer, followed by Nifty Media. The immediate support level stands at 18800, and on the opposite side, 19550 will act as a strong resistance.
Nifty50 Weekly Chart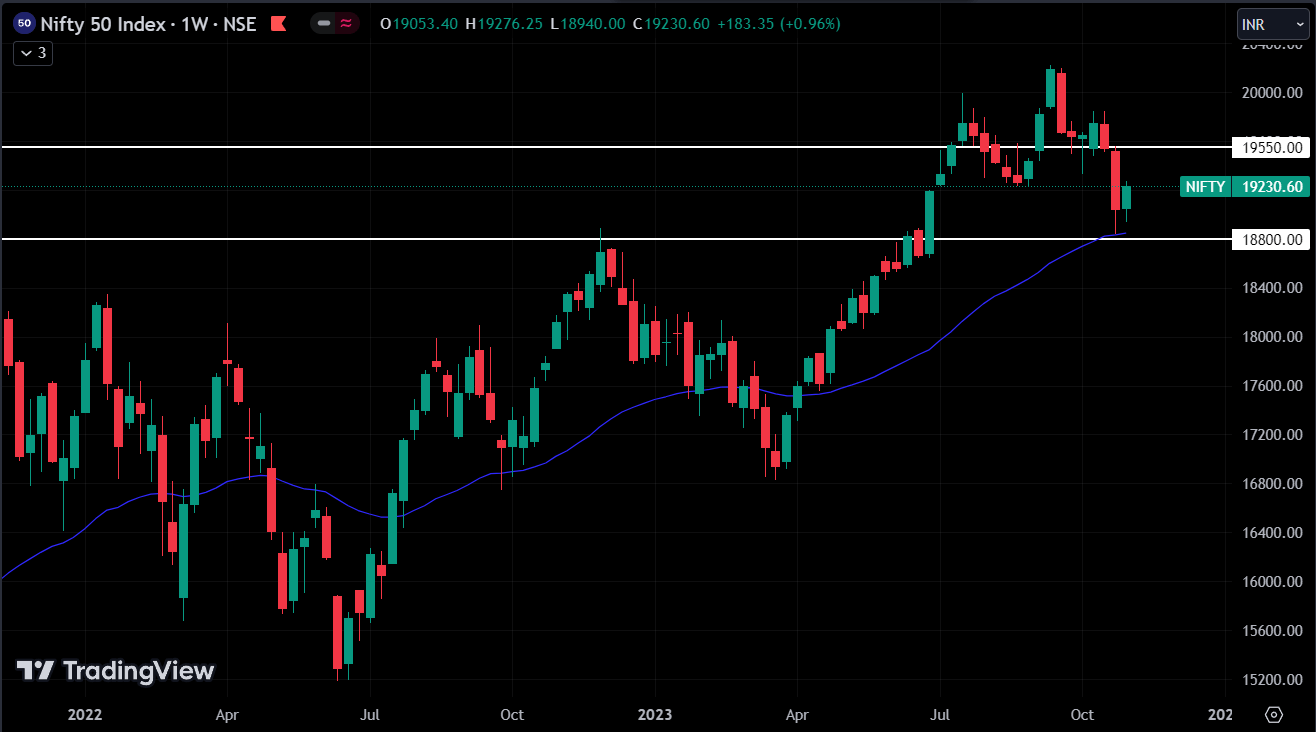 BANK NIFTY
Bank Nifty reclaimed its 200 EMA on Friday and ended the week 1.25% up. It will be important to see if the Bank Nifty sustains above the 200 EMA. PSU Banks will be important to watch for any developments next week.
Bank Nifty has corrected by 9% from the top, and large-cap private banks like HDFC Bank and Kotak Mahindra Bank have corrected even more. It will be important to see if we get any retracement signs from these two private banks. Bank Nifty is likely to find support at 42,000 points, and it might face resistance at 44,500 points.
Bank Nifty Weekly Chart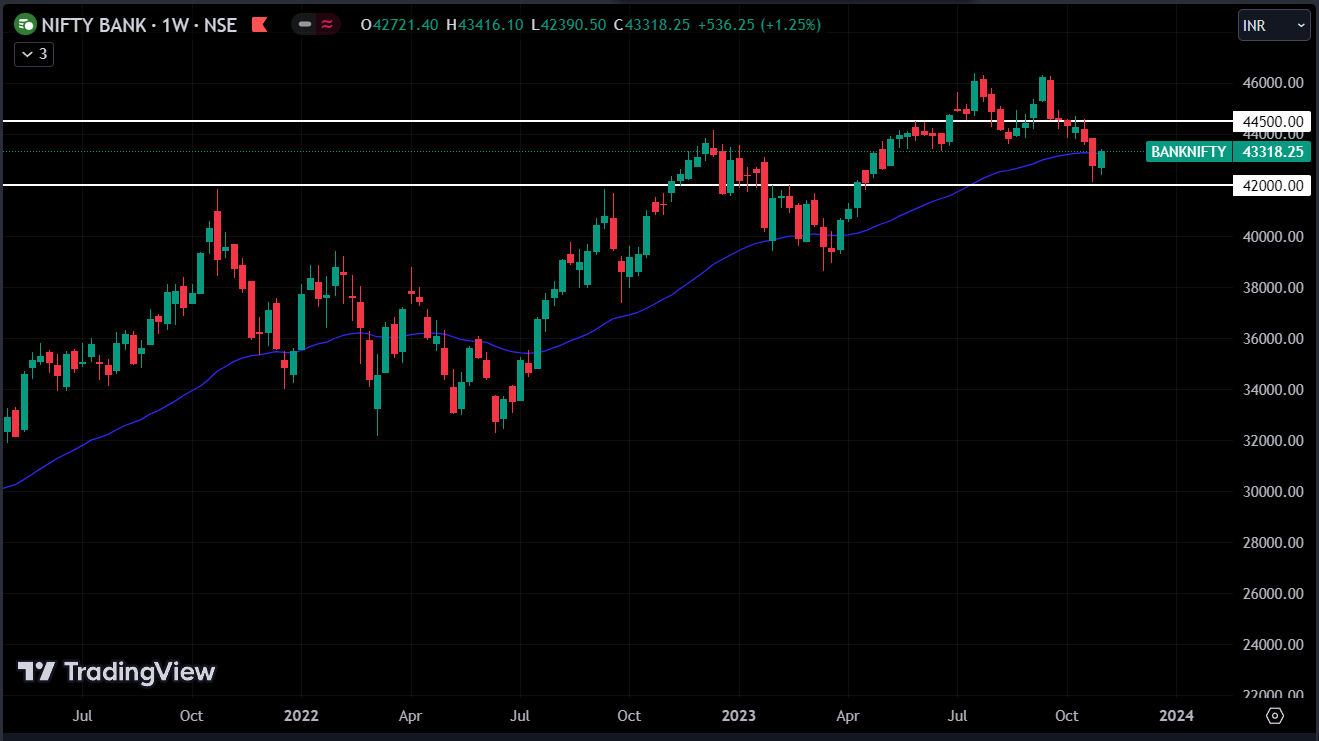 Top Performing Sector of the Week
Nifty Realty 10.38% Up
– Macrotech Developers 15.2% Up
– Oberoi Realty 12.06% Up
– Godrej Properties 11.37% Up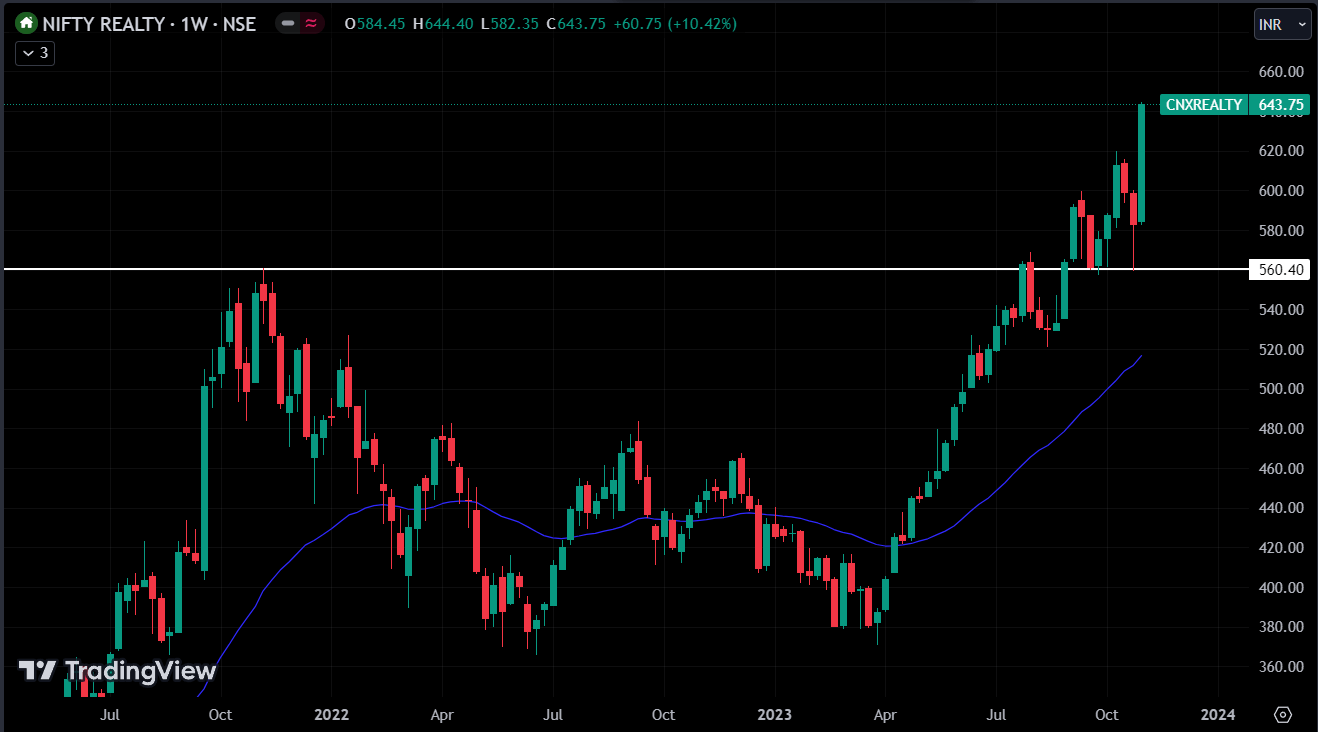 (Nifty Realty Weekly Chart)
Worst Performing Sector of the Week
Nifty Auto 0.77% Down
– Mahindra & Mahindra 2.77% Down
– Maruti Suzuki 2.69% Down
– Balkrishna Industries 2.15% Down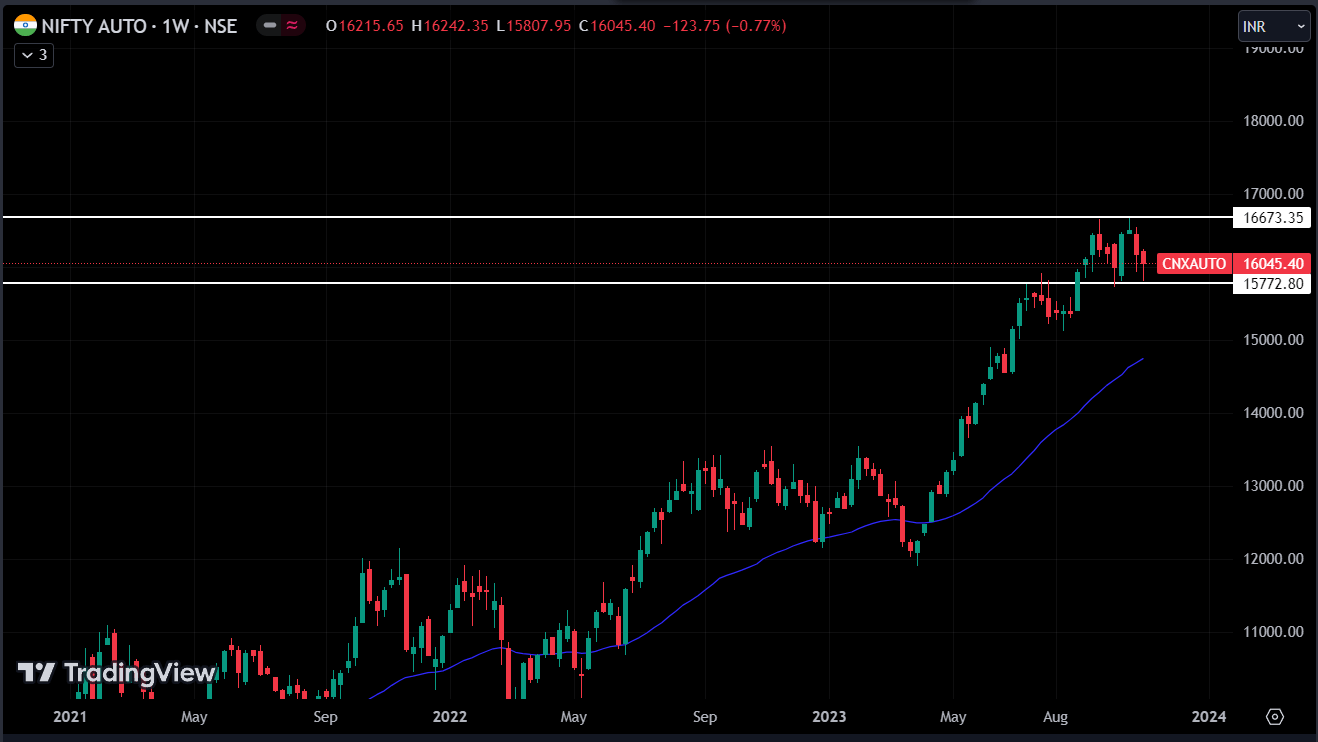 (Nifty Auto Weekly Chart)
Key News & Results
Titan Company's Q2 FY24 consolidated revenue increased 36.7% y/y to Rs 12,529 crore. Profit grew 9.7% y/y to Rs 916 crore. CaratLane's income surged 45.1% y/y to Rs 650 crore. Eye care segment grew 12.3% y/y to Rs 188 crore.
Zomato's Q2 FY24 revenue increased 72% y/y to Rs 2,848 crore. It reported a profit of Rs 36 crore against a loss of Rs 251 crore in Q2 FY23.
Piramal Enterprises approved the allotment of NCDs worth Rs 532 crore with a face value of Rs 1,000.
Zydus Lifesciences and Lupin (Nse) entered into an agreement to co-market, Saroglitazar Mg for the treatment of Non-Alcoholic Fatty Liver Disease (NAFLD) and Non-Alcoholic Steato Hepatitis (NASH) in India.
KPI Green Energy bagged new orders aggregating to 5.70 MW for executing solar power projects under the 'Captive Power Producer (CPP)' Segment of the Company.
About the Author
Sagar Wadhwa
Sagar Wadhwa is a Senior Equity Research Analyst who is a key member of the research team at Univest. He has extensive knowledge and expertise in the stock market, financial analysis, and investing and uses this expertise to provide valuable insights to the research team.
Note – This channel is for educational and training purposes only & any stock mentioned here should not be taken as a tip/recommendation/advice
You may also like: What to do when markets see a correction?